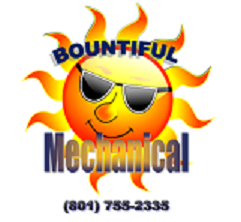 Fair, Honest and  Friendly 

HVAC Services 

Satisfaction Guaranteed! 

Bountiful Mechanical performs HVAC construction services for new commercial construction, as well as retrofits and remodels.  We provide new and existing residential change-outs, units for tenant improvements, remodels and industrial users.  Our specialties include; packaged roof top units, split system air handlers and condensers and low cost - high efficiency furnaces.  
We maintain  close associations with various local vendors that can be relied on during off-hour parts and service needs.
At Bountiful Mechanical, we design and install commercial and residential heating and air conditioning systems as well as controls to fit your needs.  Our design build department provides energy review and calculations in order to properly meet the size of equipment required to heat or cool your project. 
10-YEAR WARRANTY - Bountiful Mechanical has become a trusted company in Utah for honesty, great work and fair pricing.   We are proud and stand behind our work.  We provide a 10-Year Parts Warranty on all new systems (Air Conditioning and Furnace), as well as a 1 year labor warranty. 
FURNACE/AC Repair & Replacement – Bountiful Mechanical utilizes accredited equipment and parts manufacturers.  We repair and install most types of furnace and/or air conditioner models.
Bountiful Mechanical serves customers throughout Northern Utah, providing free estimates for the following counties:  Weber, Davis, Wasatch, Tooele and Utah County.

DUCTLESS SPLIT SYSTEMS – In additional to the traditional HVAC systems, Bountiful Mechanical can provide Mini Split HVAC Systems for individual rooms and living spaces rather than the traditional central air system.  It's more energy-efficient, more flexible, and easier to install.  The ductless system is the fastest growing division of the air conditioning and heating market. 

Our products reduce energy costs and solve problems such as:

Hot and Cold Rooms

Additions/Renovations
Enclosed Patios
Homes Without Space for Ductwork
Larger, Multi-Zone Living Spaces

"Excellent Service... Bret was on time and very friendly and professional. Would definitely recommend"... Mark F. (5 Star Rating) - Thumbtack "Personable, very knowledgeable, and overall provided us a great service. We'll be reaching out to him for HAC maintenance and repairs in the future"... David M. (5 Star Rating) Thumbtack "Great Experience... Great timely service and great price. Thankful I chose Bountiful Mechanical for my furnace replacement"... Luke D. (5 Star Rating) Thumbtack "Great Service... Bret was professional, punctual and personable. Great reliable service. Will definitely call Bountiful Mechanical again"... John T. (5 Star Rating) Thumbtack "Fantastic HVAC Specialist... Bret was great! When he first came out for the appraisal and quote he took the time to walk me through the process and gave me information that other specialists had not. He showed up to do the work on time and was on budget. We now have a great new heating and cooling system. Thank you, Bret!"... (5 Star Rating) Thumbtack "HVAC Install Success Case... Did a full HVAC install to replace a dying heater in an old house. Bret was knowledgeable, honest and realistic about what approach we should take, plus he beat the price of the other companies by far. Got the job done in a couple days, meeting and accommodated my varied requirements and overall being a friendly fellow. I will definitely be hiring him next time I need to update, fix or otherwise get into an HVAC System".... June B (5 Star Rating) Thumbtack

Lorem ipsum dolor sit amet, consectetur adipisicing elit, Sed do eiusmod tempor incididunt ut labore et dolore magna aliqua. Ut enim ad minim veniam.

JOHN STEVENS


2005 North 800 West

West Bountiful, Utah 84087